GE HealthCare clinical accessories
Maintain high performance for your GE HealthCare equipment with reliable & compatible clinical accessories.
Shop all
Featured product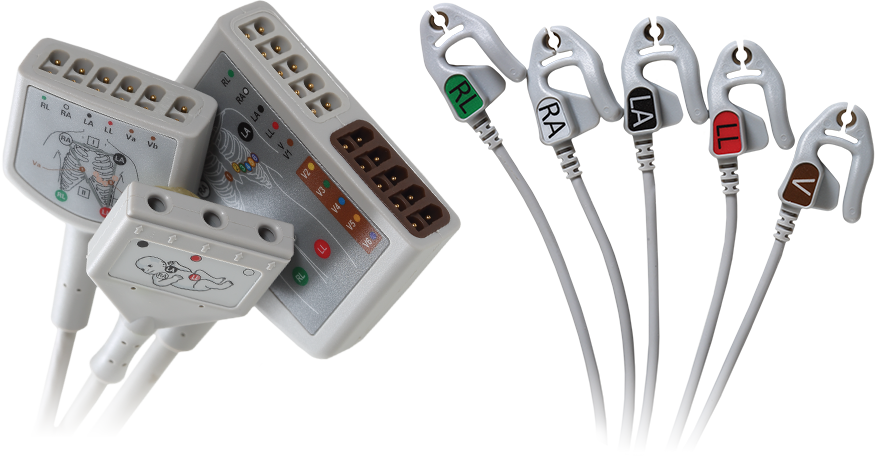 Trunk Cables and Leadwires
GE HealthCare trunk cables and leadwires help you make the correct connection to GE HealthCare monitoring devices. These high quality reusable cables complement your monitoring equipment enabling accurate measurements. They have been tested and verified as compatible with GE HealthCare monitoring devices to deliver optimum performance and high standard of care.
Durable

Chemical-resistant jacketing extends cable life, facilitates cleaning and remains flexible to withstand bending and twisting and enhance patient comfort.

Ease of Use

The leadwires are fast and easy to apply with clearly labeled, color-coded snaps and grabbers. Cables are backward-compatible with existing GE HealthCare monitors.

Features

GE HealthCare ECG cables are available in 3-, 5-, 6- and 12-lead configurations, along with a 5-lead cable with a built-in electro-surgical unit filter for operating rooms, and a 3-lead DIN-style cable for neonatal monitoring.
Corometrics Nautilus 9‑Crystal transducers
We are happy to announce that our Corometrics Nautilus 9‑Crystal transducers are once again available directly from GE HealthCare for replacement throughout the life of your Corometrics monitor. The combo transducers, for both ultrasound and toco, feature the same trusted technology—but now with a novel combination of button and loop styles in a single transducer.
GE HealthCare combo transducers offer the below benefits:
Reliability

Verified compatible with Corometrics 250-series and 170-series monitors

Simplicity

Combo button-and-loop design provides flexibility in a single transducer

Parameter excellence

Our 9-crystal technology helps achieve a wide focal region for more uniform coverage at greater depths.

Patient comfort

Flat toco transducer designed for increased comfort. Designed to support minimal re-positioning. Watertight for cleanability and in-water use.
Corometrics Ultrasound Transducer, Button and Loop, 1/pack

Item No. 2108346-001

Add to Wish List

Add to Cart

Login To Shop

Corometrics Toco Transducer, Button and Loop, 1/pack

Item No. 2108347-001

Add to Wish List

Add to Cart

Login To Shop

Why buy accessories from GE HealthCare?

Online ordering just got easier

Using the Auto-Reorder to order parts & accessories you regularly purchase is the easiest way to make sure you never run out. Simply choose an item, pick a frequency, and subscribe. You can change your reorder settings from your settings page at any time.

Auto-Reorder
One Time Delivery

Direct access to clinical accessories
for every care area

At GE HealthCare, we strive to provide ease and support to you throughout the lifecycle of your equipment, helping keep your healthcare facilities running smoothly.

Anesthesia & Ventilators

CO2 absorbent,patient connections,filters,masks
and more.

Diagnostic Cardiology

ECG leadwires,electodes and recording papers for all your MAC™ ,Cardiosoft™ ,Case™ and SEER equipment.

Maternal-Infant Care

IUPC,T Piece,ECG electrodes, recording papers and more to support your GE HealthCare equipment.

Patient Monitoring

ECG,cardiac output,invasive pressure,and temperature accessories for efficient care.